Welcome to Maleny where you can discover the magic!
Normal Hours – The Maleny Visitor Information Centre is open 7 days.
Hours: Monday – Saturday: 9.30am-4.00pm. Sunday 10.00am-3.30pm.
Closed only on Good Friday and Christmas Day. 
What's On
Palette Knife Painting in Oils: Sunday 19 September, 2021


Learn to paint in oils with a palette knife with Wayne Malkin. You will complete two paintings one a still life and one a landscape. 9.00am-4.00pm. Tickets at the link.
Outspoken: Tuesday 21 September, 2021


Outspoken brings you Mark McKenna, speaking with Steven Lang about his new book Return to Uluru, with, introducing author, Luke Stegemann talking about his new book Amnesia Road. Maleny Community Centre, 23 Maple Street, Maleny. 6.00 for 6.30. Tickets at the link.
The Playtones: Friday 24 September, 2021


RSL Maleny presents a night of dinner and entertainment with good old rock'n'roll. 1 Bunya Street, Maleny. 6.30pm-9.00pm. Tickets at the link.
Maleny Eco Village Tour and Q&A: Saturday 25 September, 2021


Held at 37 Centenary Drive, Maleny. 9.00am Tour. 10.00am Q&A. See link for transport and parking details.
Visit Pattemore House: Saturday 25 September, 2021


Visit 'Fairview' also known as Pattemore House at 15 Porters Lane, North Maleny. Open from 1.00pm-4.00pm. Enjoy interesting Maleny pioneer history, walk in the garden, or just take in the spring weather and views whilst enjoying afternoon tea on the verandah.
Film Screening – Herself: Saturday 25 September, 2021


Two screenings at the Maleny Community Centre in Maple Street. Matinee @ 3.00pm | Evening @ 7.00pm. Matinee– doors open at 2.30pm for tea/coffee/slices.Evening– doors open at 6.00pm for tea/coffee/slices. BYO nibbles, meal or restaurant take-away. Tables provided. Purchase tickets at the Maleny Visitor Information Centre.
Continuing Events
Busy Bee Workshops: September School Holidays, 2021


Book your tickets now to reserve your spot for the Busy Bee Hotel Workshops these September School Holidays at The Ginger Factory, 50 Pioneer Road, Yandina. Book at the link.
What's on in the Kiosk? – September, 2021 [Click image at the link to enlarge.]

The kiosk is located on Maple Street next to the Maleny Community Centre at Number 23. The kiosk brings you fund raising activities and information dissemination for community groups. Check out the events, presentations and fabulous goodies available in the kiosk this month.
Everything but the Kitchen Sink – Exhibition – Opening: Saturday 21 August, 2021


A collaborative exhibition to celebrate the beating heart and rekindle the focus of style in the kitchen at Maleny Art Direct, 19 Maple Street, Maleny.
Reptiles & Amphibians – Art Exhibition: 25 September – 3 October, 2021


Independent artists from the Maleny Printmakers present an exhibition at Mary Cairncross Scenic Reserve, 148 Mountain View Rd, Maleny. 10.00am-3.00pm daly.
Regular Events
Friday Drinks and Dining at 'The Diggers':  from 4.30pm


At the Maleny RSL Club, 1 Bunya Street, Maleny. Delicious meals and drinks at club prices. A great family venue.
Maleny Sunday Markets: every Sunday 8.00am-2.00pm


The Maleny Market operates every Sunday from 8am – 2pm in the RSL Hall, Bunya St, Maleny (opposite the Maleny Hotel). The Market is undercover and so opens rain, hail or shine offering a great variety of local stalls.
Maleny Country Music Club: Second Saturday of the month


Maleny Country Music Club is held in the Big Shed at the Maleny Pioneer Village. 9.00am-4.00pm.
Jazz in the Forest: 1st and 3rd Sunday of every month



Listen to the smooth sounds of jazz in the rainforest fringed Maleny oasis of Spicers Tamarind Retreat at 88 Obi Lane South, Maleny. Enjoy award winning Asian cuisine while you listen. Book for lunch on 5420 5420.
Pattemore House Open on Fridays and the last Saturday of the month


15 Porters Lane North Maleny. Visitors are invited to explore the displays of photographs, survey maps and other interesting items, and view oral histories. Pattemore House is open Friday mornings 10.00am-12.00pm and on the last Saturday of each month (except December) from 1.00pm-4.00pm.
Maleny Pioneer Village: Open Tuesdays and Saturdays


The Historical Village, at 7 Bryce Lane, Maleny is open to the public on Tuesdays and Saturdays, from 9.00am to 4.00pm or by appointment. Phone: 07 5499 9030.
Coming Events
Look ahead at this link for upcoming events.
Annual Events
Look ahead at this link for annual events.
Visitor Information Centre News
---
MVIC @ Maleny Co-op


On 9 June, 2021, the MVIC Vollies dropped by the Maple Street Co-op. We explored the expanded premises and were amazed by the extensive range of products, including a fast-charging station for electric vehicles.
MVIC @ Maleny Dairies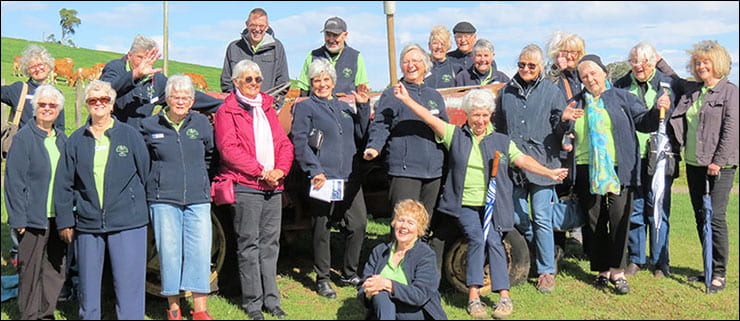 On 9 June, 2021, the MVIC Vollies toured Maleny Dairies. This is an award winning, family owned and operated business in the fabulous setting of green Maleny hills.

MVIC Annual General Meeting, 2020


Held on 18 August, 2020 at King Ludwig's German Restaurant, 401 Mountain View Road, Maleny. Read all about it here.